24x7 Support – We are Happy to Help You!
Are you facing the problem of Outlook corruption?
Are you unable to understand the features of our software?
Do you need some help about our software?
It provides 24x7 support facility for you. You can ask your questions or queries and clear your doubts related to tool ranged of products. You can contact our technical Team for any question about the tool. We are happy to help you, you are welcome at any time!

Click on the above live chat button to start live chat online.

Call Us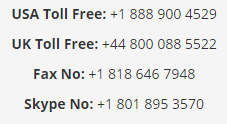 Mail Us