Working of Outlook Recovery Software

Datailed Specifications of Outlook PST File Recovery Tool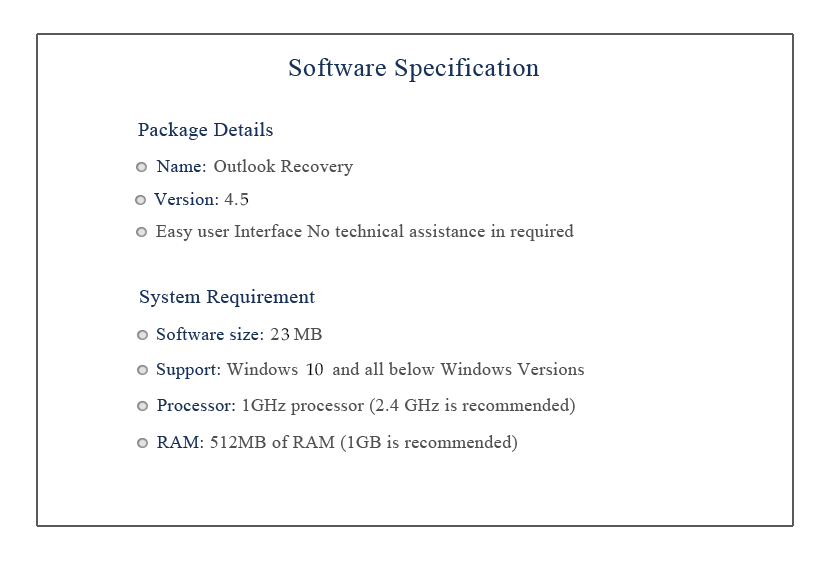 Recover Corrupt PST File with 2 Available Versions

Download Free and Full Version of Outlook Recovery Software
To ensure that our users are satisfied with the product before investment, we provide its free demo version. With trial version, user can have view over software features and working but cannot save the PST recovery resultant.
If software performance in free testing version has been satisfactory, then for saving recovered Outlook file, investment in licensed version of tool is necessary. The complete version of recovery software is available in three different licenses in accordance to the need to use solution on number of machines.
FAQ's regarding Outlook Recovery Software

Does the Outloook PST File Recovery Software easily retrieve deleted Outlook Emails?
Yes, using Outlook Recovery tool, users can recover deleted items from Outlook 2016, 2013, 2010, 2007, 2003, 2002 PST file within seconds.
Can I recover data from Outlook BAK file while running ScanPSt.exe?
Yes, The software provide option to add Outlook BAK file(s) in software interface using Select / Search BAK / PST file option. The tool will scan and load repaired and recovered data from BAK file in the preview panel. You can restore Outlook BAK file data efficiently without any data loss.
Does PST File Recovery Tool helps users in scanning unhealthy PST files?
Yes, our Outlook Data File Recovery Tool employee's two methods to make the PST file in workable condition. The two methods are Quick and Advanced Scan. By employing any scanning methodology, you can recover damaged Outlook PST Files.
Is there any provision to save the files when done with the recovery process for future purposes?
Yes, the Outlook data recovery software allows the users saving the resultant PST files into CSV so that it can be used in future in time of crisis.
Can the PST Recovery Software truncate damaged and oversized PST files?
Yes, Outlook Recovery software provides users with split PST option to divide large sized PST Files easily.
Which all format, I can save my PST / BAK data using this tool?
You can save or export Outlook data items as PST, EML, PDF, MSG, HTML, or in directly import in Office 365 account.
User's Say on Outlook PST File Recovery Software
"While accessing the Outlook File Recovery tool, I was as relaxed as it served my purpose. The tool has some out of the box features. It performed all the functions with brilliant features like repairing corrupt PST files. Kudos Developers! for this brilliant tool".
-Kinsey Templeton - Brazil
"Earlier, I was looking for a solution to recover PST file's deleted items. Then, my friend provided me this Outlook Recovery tool. I downloaded the free version of the software. It proved so helpful that I bought full edition of tool. Thank you team!" -Ergo Jaeger- Paris
"Recovering damaged PST files in Outlook scared me like nightmare. I was worried how to repair corrupted PST file. I always kept on surfing the web day and night. Finally, one day, my dream came true and I got Outlook PST File Recovery software. The utility served me up to my expectations. Thanks to the team of developers!" -Irina Rowan- USA
"The best PST recovey software I have ever used in my life. The program fulfilled all the requirements. The program has a knack in many areas with advance features like date filter, naming conventions, repairing damaged PST files, etc. I am really impressed and grateful to developers for such a brilliant wizard". -Oliver Jackson- LONDON